**** NOTICE February 24 ****
IT IS WITH REGRET THAT WE INFORM YOU THAT THIS TRAIL IS TEMPORARILY CLOSED DUE TO FLOOD RELEIF WORKS (douglasfrs.ie) IN THE VICINITY OF THE TRAIL.
WE APOLOGISE FOR ANY INCONVENIENCE THIS MAY CAUSE.
The area
This forested glen is known locally as the 'Mangala', a word derived from 'Mangel'. A mangel, or mangold, is a beet grown as animal fodder and it is believed that these were cultivated to feed the horses that worked in Douglas mills. The mills and this glen were also linked by the river flowing through it. The river travelled through the mills, powering its water­wheel and providing a water source.
The woods are now named for Ballybrack House, a modest 'Big House' on the hill behind the trees. This house was occupied by a branch of the Lane family, who were prominent in Cork's political and social life. Hugh Lane, famous for his art collection and disputed will, was born in Ballybrack House on 9 November 1875.
The woods today are a semi-urban woodland area with a variety of flora and fauna. The river is home to brown trout and otters are active along it. Herons are also frequently seen standing in the river. The woods are an important refuge for native bat species.
---
The trail
Early in 2014 Douglas Tidy Towns started to repair some of trails in the Ballybrack Woods with the aim of enhancing this fantastic local amenity. Funding for this work was provided by SECAD, Cork County Council and donations from local people and businesses. The work was carried out by contractors, Probation Service, Douglas Scouts and Douglas Tidy Towns Volunteers.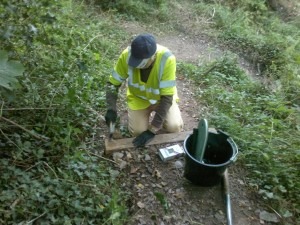 This way-marked trail is maintained by Douglas Tidy Towns in co-operation with Cork County Council. Contact us if you have any comments on this amenity.
See here what else we have in mind for this fantastic area – and we are always looking for helping hands!
Trail Summary:
Trail Start/Finish Point: Community Centre Car Park
Length: 1.2 km
Total Ascent: 28 Metres
Time: 20 minutes
Way-marking colour: Red
Trail Grading: Easy
Trail Grade Description:
Generally flat trails with a smooth surface and some gentle slopes or shallow steps. These trails are generally suitable for family groups including children and the elderly. Normal outdoor footwear can be worn.
Map: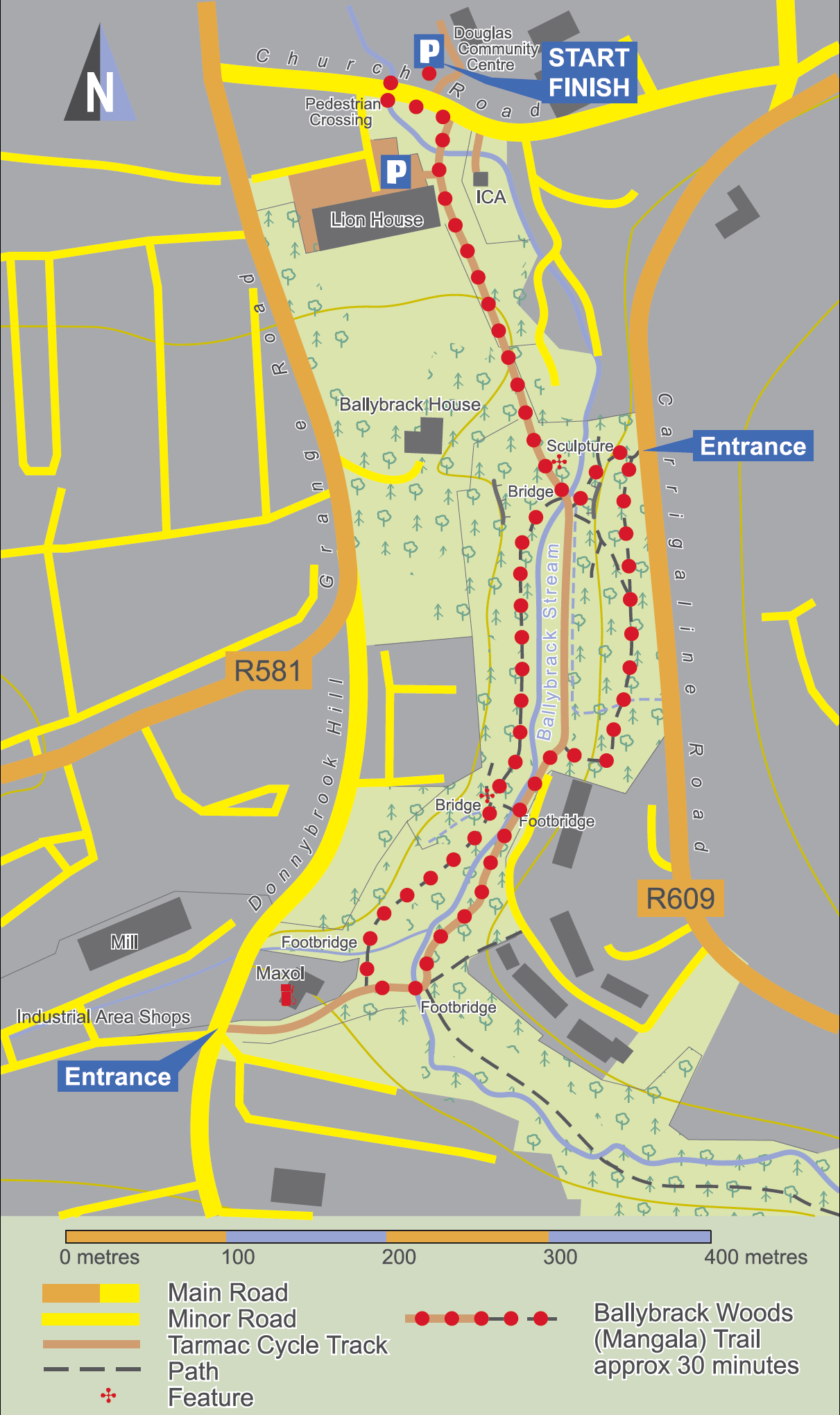 You can also download the map here.
Dogs Permitted: Yes. Keep your dog under effective control.
Emergency Contact:
Call 999 or 112 in case of an emergency. Douglas garda station can be contacted at 021 4857670.
Trail information on irishtrails.ie: Ballybrack Woods Trail
---
Leave NoTrace
In order to minimise your social and environmental impacts, please follow the principles of Leave No Trace on your visit to Ballybrack Woods. Leave No Trace is about understanding, responsibility and care for Ireland's natural environment. To learn more about how you can Leave No Trace, visit www.leavenotraceireland.org.
Please ensure to:
Take all of your litter and food waste home. Pack it in, pack it out.
Keep your dog under effective control.
Clean up after your dog. Don't leave your dog's mess for someone else.
Be considerate of all users of the trail.
Respect the wildlife who live in the woods.
---
Douglas Tidy Towns was supported in the development of this walking trail by South and East Cork Area Development Ltd (SECAD) through the European Agricultural Fund for Rural Development and the National Development Plan.