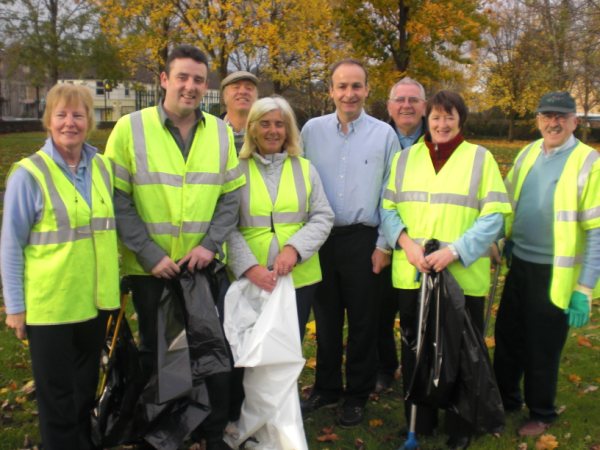 INTRODUCTION
Douglas Tidy Towns (revitalised with its new Chairman, David Boyle) is anxious to ensure that those who live and work in our Tidy Towns area (which stretches from the Briar Rose via Well Road to Rochestown Park Hotel, to Maryborough House Hotel and then to Grange with its limits on the South Douglas Road at Kevin O'Leary's Garage) are fully informed of its current activities and plans for 2009.
The Tidy Towns which is supported by and is part of Douglas Community Association has an eight year history, since its formation in late 2000 and having entered the Tidy Towns Competition for the first time in 2001, we have won awards on 3 occasions – an outstanding achievement for our committed hard working group of volunteers.
PURPOSE
Our focus has at all times been to improve the physical environment of Douglas, to keep it tidy and litter free and enhance it by the removal of black sports and their replacement with flowers and shrubs, hedging and climbers, to maintain public areas in conjunction with Cork County and Cork City Council. Our regular Saturday Street Sweep has several functions;
1. To clear up bottles, cans and litter from areas which are outside the core of the village as well as in the village.
2. To monitor how our Tubs and Planters are maintained and how businesses in the village are supporting us and many are, for which we are grateful.
3. To review areas that need attention – we are in regular contact with both Councils regarding public areas for which they are responsible and which need repair or attention; and with the E.S.B. regarding Public lights not working.
4. To maintain liaison with local people, residents associations and groups whose objectives are parallel to our own.
IMPROVEMENTS
The Tidy Towns has undertaken many improvements in Douglas, a great many in conjunction with others particularly the Cork County Council through the local Area Engineer and the Urban & Village Grant and the E.S.B.
The main improvements are we would feel –
The Jogging Path and the overall improvement and regeneration of the Community Park.
The removal of black spots in Douglas – such as the area near the Legion Hall, at the steps of the Bow Wow Bridge and the junction of Grange Hill.
The opening up of Douglas Woods with the well in the woods, the new footpath and the general clearance – it is now a wonderful amenity.
As a dedicated core group we have sought and received help from Cork Co. Council, E.S.B., Cork City Council, Rehab, Bracken Residents, some of the businesses in Douglas and we would also like to thank Douglas Village Shopping Centre for their consultation with us during their refurbishment and their work in placing Planter Urns at the front entrance which are very well maintained.
TIDY TOWNS COMPETITION
We look each year at the Tidy Towns Competition as a focus, but we view it in the short term and long term.
Our immediate objective is to prepare our Application for the 2009 Competition with a plan to outline and set time lines for our activities but we are also developing a rolling 5 year plan so that we are planning in detail for the next year and more broadly for the period to 2013.
We are proud of what we have achieved and we have ambitious plans for the future. We plan to improve the Community Park further particularly to repair the wonderful old stone wall, to further improve and open up the walk through the woods (Mangla) and create a walking trail through Douglas.
ANNUAL SURVEY
We will audit in our annual survey the shrubs, plants and flowers that we have placed in over 20 locations around Douglas including our most recent large circular planter at the Lal Quila Restaurant (the Old Garda Station). Our 5 year plan is most ambitious and will, we know, get support of both Councils as far as financially possible. We also need the support of everyone in Douglas. We need your alertness and vigilance to stop litter and vandalism by reporting it and also to keeping your own immediate area litter free.
Last year we cleaned up newly planted Beech hedges opposite the Cinema. We removed briars, weeds and rubbish and it is now so attractive. Working with the Co. Council we arranged to get the railing in Church Road to the Bow Wow Bridge painted and hedging trimmed. Our volunteers keep the area of new planting free of litter and waste.
The floral displays at the Roundabouts and other locations were wonderful and we hope to improve on them this year. We just need extra volunteers to take care of these.
COMMITMENT TO ENVIRONMENT
You will see from this Newsletter that our group is more than just interested in the Competition – we are totally committed to the environment. We clean Douglas Woods to remove literally hundreds of cans and bottles (and recycle them) after drinking parties are held there. We watch over and support newly planted trees and shrubs to bring them to maturity and if they are damaged (as occasionally they are) we replace them. Where there are black spots covered in litter and weeds (such as the area near the Legion Hall was) we gravel it and place a planter box with plants and shrubs and most importantly maintain it and at the rear of Gartan Park we also planted and maintained trees and gravelled the area.
WE WELCOME VOLUNTEERS
We know many of you appreciate what the Tidy Towns does and are very supportive. Maybe you could support us in a specific project or by working with us on our street sweep even for a few Saturdays. We do of course need your financial support as we have to buy the planter boxes, flowers and shrubs.
We are very grateful to the Councils as well who supply us with equipment such as collection bags, gloves, pickers etc.
OUR CORE GROUP
We are also supported since the beginning by our core group of very hard working volunteers including Jane Kidney, Dave Cooke, Andy Hayes, Maura Duffy and more recently by Eileen Blake, Aidan Warner, Rose O'Neill and Connie O'Driscoll. We all work together on the various projects and in fact we get great satisfaction from the work and we also are grateful to the many people we meet who express their thanks to us.
50TH ANNIVERSARY OF TIDY TOWNS
One of the highlights of 2008 was the invitations we received to the 50th Anniversary of the Tidy Towns Competition held in Dublin in September and had the pleasure of meeting the committees from all over Ireland as well as the various Ministers.
SUPPORT
Another highlight was being joined by the wonderful Groundforce team from Rehab, South Douglas Road on a couple of occasions who worked with us pruning the shrubbery in the Community Park, weeding and trimming the trees. They have offered to continue this co-operation with us in 2009.
Helen of Bracken Court Residents Assoc. Also got in touch with us and a group of Tidy Towns Volunteers joined her and her group in cleaning up the large area which comprises Bracken Court. This is an endeavour we would like to repeat and invite all interested Resident Associations to get in touch with us if they would like our help, on an organised clean-up day.
Last May, 8 employees of Musgraves took part in a clean-up of Douglas suburbs and this was warmly welcomed as Super Valu are sponsors of the Tidy Towns Competition. We would warmly welcome an approach by any other Firm which would allow their employees some time to help us. Above all Firms should ensure their premises are nicely decorated and that the outside of their premises is kept clean and litter free.
GREETINGS FOR CHRISTMAS
The Members of Tidy Towns wish you and yours the compliments of the Season and Health and Happiness for 2009.
CHRISTMAS 2009.